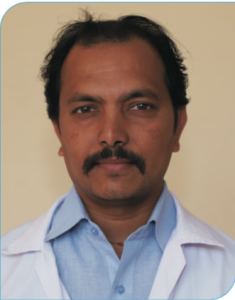 Indeed it's a happy & proud moment for me to be associated with Stalwart 
of Education Edifice in Maharashtra Sir Dr. M S. Gosavi, leading Gokhale
 Education Society having completed 100 glorious years of history to it's credit.
This new college like a newborn baby is lucky enough to get all the essential
 support & guidance of the Mother Institute and its Enriching Environment.
College is committed to follow the footsteps of the society & uphold it's values of creating Competent, Global Professionals through Quality
 Education.
Physiotherapy plays a vital role in prevention of Health Problems & Health
Promotion, Enhancing Quality of life. As the life expectancy is increasing so are
 the new health issues due to varied reasons compromising quality of life. This
 invites physiotherapy intervention to alleviate all such discomforts & create a
better world through professional Education & training at affordable costs.
My heartfelt special thanks to all the higher authorities (Director HR,
Director E & M & Director Project) all other supporters and well wishers for their
 constant support & guidance.
Dr. Basavaraj G. Chanda
BPT, MPT (Community PT)